Contactless Laser Extensometers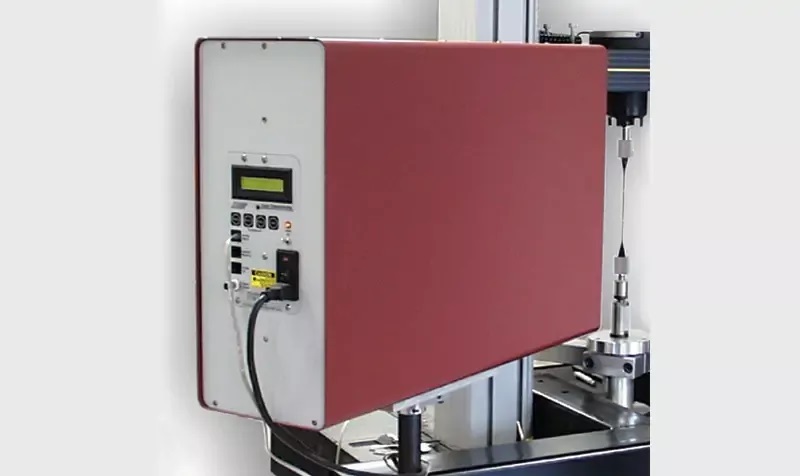 Model : LE-05, LE-15
Applied Standard
Model LE-05 and LE-15 extensometers measure strain optically, without contacting the specimen, using laser diode technology.
The extensometers are self-contained and portable. They may be interfaced with a variety of testing machines and data acquisition systems using the ±10V analog output or bi-directional RS-232 serial port. Operation may be local or remote. A digital display is included.
The scanning beam is always perpendicular to the specimen, unlike most laser extensometers. This eliminates errors when viewing through windows in chambers.
It also minimizes sensitivity to the distance between the extensometer and the sample. Because the unit measures reflected light, no receiver is required behind the sample.
Features
Non-contacting optical design requires only reflective tape marks on the specimen, or clip-on reflectors.
Ideal for use in chambers-calibration not affected by aiming through viewing windows.
High resolution of 1 micron.
Full 127 mm (5 inch) or 381 mm (15 inch) measuring range allows high elongation measurements (e.g. 200% on a 25 mm gauge length).
Load frame
Consult factory for options like reflective clips for high temperature use ¹Over optimum displacement range at calibrated distance<br>Note: Specifications measured at 25℃ and 50% relative humidity
Specification
Measurement Range:
LE-05: 8 to 127 mm (0.3 to 5 inches); LE-15: 8 to 381 mm (0.3 to 15 inches)
Max. Resolution:
LE-05: 0.001 mm (0.0001 inches); LE-15: 0.01 mm (0.001 inches)
Linearity¹:
LE-05: ±0.01 mm (±0.0004 inches); LE-15: ±0.04 mm (±0.002 inches)
Repeatability¹:
LE-05: ±0.005 mm (±0.0002 inches); LE-15: ±0.04 mm (±0.002 inches)
Max. Scan Rate:
100 scans/second
Target Distance:
Two selectable factory preset values between 254 and 457 mm (10 and 18 inches)
Default values are:
LE-05: 305 and 381 mm (12 and 15 inches)
LE-15: 381 and 457 mm (15 and 18 inches)
Zero Suppression:
Reading may be set to zero anywhere in measuring range
Scan Line Orientation:
Vertical
Scan Averaging:
Moving window averaging over a selectable number of scans
Analog Output:
6 bit, ±10 VDC standard
Full Scale Ranges
0.1, 0.2, 0.5, 1.0, 2.0, 5.0, 10.0, or 20.0 inches
(model dependent) Optional 2.0, 5.0,10, 20, 50, 100, 200, or 500 mm
(model dependent)
Digital Communications:
RS-232 serial communications, standard 3 wire
Selectable Baud Rate:
9600, 4800, 2400, or 1200
Display:
2 line, 16 character digital display, backlit LCD
Power Input:
115 VAC ±10%, 50/60 Hz standard
230 VAC ±10%, 50/60 Hz optional
Size:
LE-15: 668 L x 457 H x 196 W mm (27 L x 18 H x 7.7 W inches)
Weight:
LE-05: 4.5 kg (10 lbs), LE-15: 20.4 kg (45 lbs)
Mounting Provisions:
1/4-20 UNC tapped holes in base (4)
Laser Source:
Diode laser, 670 nm, CDRH Certified Class II laser instrument