Spring Tension & Compression Testing Machine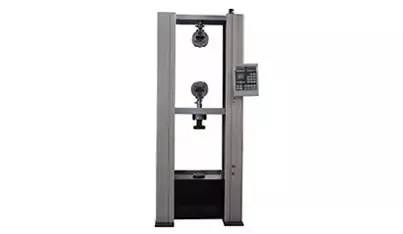 Model : WDW-T Series
Description
WDW-T Spring Testing System (STM) is a specialized application on the basis of WDW-E series Economic materials testing systems.
The STM for Tension & Compression adopts rigid load frames, accurate load weighting system, advanced PCIE measuring & control system, and intuitive modular application software.
The Spring Testing System is a perfect choice for spring testing, of which the parameters are much better than that of other existing spring testing machines on the market.
Applied Standard
Load meets or exceeds the following standards: ASTM E4, ISO7500-1, EN 10002-2, BS1610, DIN 51221.
Strain measurement meets or exceeds the following standards: ASTM E83, ISO 9513, BS 3846, EN 10002-4.
Safety: This Spring Tension & Compression Testing System conforms to all relevant European CE Health and Safety Directives EN 50081-1, 580081-1, 73/23/EEC, EN 61010-1
Load frame
According to load capacity & test application, the load frame can be available in single column, table and floor type to meet a variety of test applications.
The frames all take human factor into considerations in the design to ensure safety, reduce operator fatigue, and provide the highest level of flexibility.
Extremely robust cross-head guidance is incorporated in all frame to provide the highest level of lateral cross-head stiffness.
Load cell is with accurate and interchangeable for all frames. Each frame can operate under full capacity.
High accuracy
The preloaded precision ball-screw, with high speed and low noise, ensures the high speed, accuracy of position measurement and less noise.
High stiffness
The load frame is with 2 or 4 columns and heavy duty pre-loaded bearings.
Safety features
The testing machine stops automatically in case of over load or over limit.
Large space in the working area: The insides of columns provide wide space for the operator.
Over-stroke limiter
The range of the cross-head movement is mechanically limited.