Computer Controlled Electro-hydraulic Servo Bending Testing Machine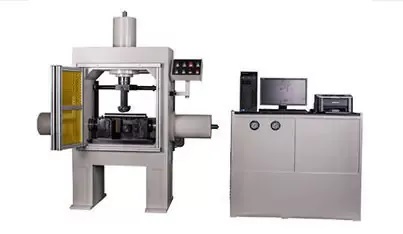 Model : SBT Series
Description
SBT series computerized bending testing machines are mainly used for bending and pressing tests for metallic sheet & round bars as per standards of GB/T232-2010 & ISO 7438-2005 Metallic Materials-Bend Test.
An axial oil cylinder for bending test is installed on the top cross-head.
Two pressing oil cylinders are installed at both sides of the frame, which adopts the synchronous control, to realize the pushing and pressing force on the bending support to adjust the distance between pivots.
The pressure meter indicates the pressure in bending or pressing.
Various load display can be selected, such as display through the pressure meter, digital display, and computer screen display etc.
The computer control type SBT bending testing machine can do the bending test automatically or manually. The applied bending force can be adjusted by controlling the oil feed valve.
Applied Standard
Load Frame: four columns
Control Mode: computer servo control or manual control
Bending & pressing can be performed at the same time.
Vertical oil piston with stroke limit function helps batch test.
Main piston is installed in the upper cross-head, while lateral pistons are located at both sides to realized balancing and pressing.
Designed with a locking mechanism of bending span
Safety actions are considered such as over load protection and over stroke protection.
With computerized system, the computer control type SBT bending tester of servo-hydraulic can realize multilateral control of constant test load, constant test load speed ratio, and constant speed close-loop. Functions including auto return to the initial position, bending angle auto control can be realized.
Specification