Computer Servo Control Testing Machine for Rock Stiffness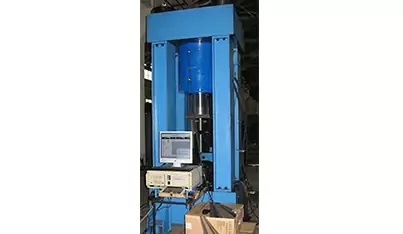 Model : YAW-G3000
Description
This Computer Servo Control Testing Machine for Rock Stiffness is used for static fatigue compression test for concrete & rock material under different parameters.
The test includes compression, shearing test, three-point bending testing & fatigue test. Meanwhile, the Computer Servo Control Testing Machine can also realize the automatic control, measuring, data processing; curve analyzing, result displaying and test report printing in the process of various tests.
The stiffness testing system can do full process test under stress and strain.
Applied Standard
Rock compression and shear test fixtures

Remarks:
We can supply the load range from 300kN to 3000kN for those compression testing machines. In addition, we can also provide rock specimen for tri-axial, bending, indirect-tension, fracture, creep and other compression testing machines according to your test requirements.
Load frame
The load frame has dual columns with top actuator. The base of the load frame is made of steel plate and it is convenient to take the specimen in and out (drainpipe and other concrete pipe). The oil power source is with constant servo flow of4.1L/min, 26Mpa. The servo valve is Moog or Atos. Load is measured by load cell. The deformation can be measured through two digital dial indicators.
Specification
Max. Load Capacity: 3000kN
Measuring Range: 60kN to 3000kN
Load Accuracy: ±0.5% (Under the condition of less than 1000kN loading, it adopts pressure transducer mounted on oil cylinder used for measuring oil pressure.), ±1% (Under the condition of more than 1000kN loading, it adopts load transducer mounted under compression plate used for measuring test load.)
Max. Load Speed: 400mm/min.
Displacement Resolution: 0. 01mm
Deformation Accuracy: 0.0001 (Adopting Japanese imported differential transformer)
Max. Stroke of Piston: 200mm
Size of Compression Plate: φ300mm